Journaling can help you work through a bad attitude. When I am struggling with bad attitudes, I have found that writing out my thoughts to God helps me to unload them and sort them out and keep accountable to Him. And if I still can't seem to break through, I will wash with the water of God's Word.
Take your life continually before God and He will change you into the likeness of His Son. Stuffing feelings might eventually lead to outbursts of emotions. Colossians 3:8 says that we are to put off and rid ourselves of unhealthy emotions.
"But now you must rid yourselves of all such things as these: anger, rage, malice, slander, and filthy language from your lips." (Col 3:8 NIV)
You can unload them and sort them out when you feel angry, confused, or hurt. We usually suppress them and put a lid on them or we explode. If they are stuffed, they can eventually become volcanic. Journaling is a healthy and safe way to take the lid off and diffuse them.
When your emotions feel like they are going to erupt, look at them by bringing them to God and sharing them with Him. He will pour the oil of His Holy Spirit on them and diffuse them. He will show you why you are so angry and how He wants you to respond.
Pay close attention. Many times as I write out my emotions I begin to see things I never saw before about the situation and about myself. I finally see why I do the things I do.
If you don't deal with your feelings, they'll deal with you or others in an unhealthy way. As you write them out before God, surrendering them, He will change your character into the likeness of His Son, Jesus Christ.
Journaling your emotions will reveal to you how you are really feeling. Many times people do not even remember why they are so angry. Have you ever had that experience? Once you journal if you are still struggling, it's time to wash with the water of God's Word. God's word has a cleansing effect.
In order for God to mold you properly, there is a process that is required. Before a potter forms a lump of clay, it is washed in a vat of water and then soaked. And in order for you to be molded into the image of Christ, you, too, must be washed by water and saturated in it. But it is a special type of water that the Divine Potter uses in molding us. It is the water of His word. God's word is alive, full of cleansing and energizing power that can change you into who He created you to be, someone with a beautiful heart.
Through your interaction with God, He will continually knead your heart – the clay and will add the water of His word in order to expose and work out all of your impurities. As He kneads, you may feel pressure.
For example, God continually kneads my heart trying to work His love into it. When I am tempted to turn away from walking in love, He lovingly washes me with His word knowing that with just the right amount of water my heart will soften.
One night when I was really struggling with loving someone, He woke me up two times with this verse:
"Beloved, let us love one another, for love is from God; and everyone who loves is born of God and knows God. The one who does not love does not know God, for God is love." 1 John 4:7-8 NASB
He was instructing me to love this person unconditionally. He seemed to be saying to my heart, "If you say you know Me, then you will walk in love, for God is love."
Even though I struggle with it, and even though I might not feel like reading God's word, I know I must, for He is trying to mold my heart into a vessel of love. It is never comfortable when God reveals my imperfections. And it will not be comfortable when He reveals yours. But if you yield to His hand, He will remove them.
Use the following prompts to help you get started.
Journaling Prompts:
Lord I feel like…
God, I am so angry about…
Why am I feeling so depressed…
He makes me so angry…
There are many booklets with catagorized scriptures. If you do not have one, you can find categorized scriptures to wash your heart in the back our Washing with the Word Journal.
Excerpt taken from "Intimacy with God through Journaling" – Coached Program
Read More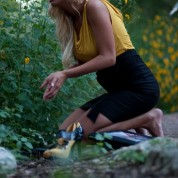 The garden played an important role in God's plan to save mankind. Jesus loved to pray and meet with His disciples in a garden. He yielded His will to take our place in payment for sin in the garden on the Mount of Olives. There, through the agony of prayer, Jesus surrendered His life for the redemption of mankind.
The ransom price was paid in full as the sins of the world were taken freely and carried by Christ on the cross. His mutilated body was buried in a tomb, sealed with a large stone. But death held the Savior only three days and nights in its icy grip.
When God raised Jesus from the dead with the dynamite power of the Holy Spirit, Jesus was then seated far above all rule and authority, power and dominion. All things were put in subjection under Him (Eph. 1:20-22). Jesus made a public display of the enemy, totally stripping him of power and triumphing over him (Col. 2:15).
No longer was man forced to bow to Satan, the god of this earth. The King of Kings had taken His rightful place. Man once again had free access to the Father through Jesus, the Son.
With His blood, Jesus bought your wayward loved ones back for God and purchased their freedom from slavery. When they ask His forgiveness, He becomes their Savior and removes the handcuffs and chains of sin, delivering them from the dark domain. They are freed! Now, they are God's own property, sealed with His Holy Spirit.
You must be vigilant, however, and shield their heart against the lies of the deceiver, for he will try to trespass and reclaim lost territory. Standing on God's promises will enable you to stop him cold so that your prodigals will walk joyously in the freedom Christ has given them.
It is for freedom that Christ has set us free. Stand firm, then, and do not let yourselves be burdened again by a yoke of slavery. Galatians 5:1
A trespasser is one who enters unlawfully upon the land of another. Satan is no longer the landowner of the garden of the heart. Do not allow him to trespass! Apply the blood and use the Name of Jesus by which he has been defeated.
Do you see your loved ones dabbling in sin? Are they allowing the deceiver to come into the garden of their hearts? Then stand up and use the tools that God has given you and take back the land the enemy has stolen! While you are taking back the land, at times you might notice other captives. Snatch whomever you can along the way and take them with you. Be sensitive to the leading of the Holy Spirit and take all who are ripe for the harvest with them!
Save some by snatching them as from the very flames of hell itself. And as for others, help them to find the Lord by being kind to them, but be careful that you yourselves aren't pulled along into their sins. Hate every trace of their sin while being merciful to them as sinners. Jude 23 (TLB)
Father, help me to be sensitive to your Spirit. Widen my vision to see others who are ripe for harvest as I focus on my prodigals.
It's time to get your knees muddy! List the names of other loved ones, prodigals or even the lost that you can start praying for.
Excerpt from Mud On My Knees Prayer Guide/Journal
On sale for a limited time! Get your copy today!
Read More