The Miracle is in Your Mouth — Speak God's Word!
When you speak God's Word – God's angels work on your behalf.
Bless the Lord, you His angels, Mighty in strength, who perform His word, Obeying the voice of His word! Psalm 103:20 (NASB) 
The Angel Came in Response to Daniels Words!
Daniel 10:12 (NASB) Then he said to me, "Do not be afraid, Daniel, for from the first day that you set your heart on understanding this and on humbling yourself before your God, your words were heard, and I have come in response to your words.
When You Speak God's Word – God's Angels Work on Your Behalf!
Your words are powerful in spiritual battle — You have been given the sword of the Spirit – the Word of God … to speak out against the powers of darkness that have already been defeated at the cross.
And take the helmet of salvation and the sword that the Spirit [d] wields, which is the Word of God. Ephesians 6:17 (AMP)
Hammer your sickles into swords. Forge your pruning shears into spears. For this final battle, even the weakling must say, 'I am a warrior!' Joel 3:10 (VOICE) 
Mark 11:23 (AMP) Truly I tell you, whoever says to this mountain, Be lifted up and thrown into the sea! and does not doubt at all in his heart but believes that what he says will take place, it will be done for him.
Speak to your mountain! Speak God's Word … The angels are working according to your words!
The Miracle is In Your Mouth!
Jesus Example: Jesus came to earth and demonstrated how to SPEAK with delegated authority. He said … it is written (Matthew 4:4).
Your Words Tell … What's in Your Heart!
… The heart overflows in the words a person speaks; your words reveal what's within your heart. Luke 6:45 (VOICE) 
So guard your heart! What's in your heart determines the course of your life!
Guard your heart above all else, for it determines the course of your life. Proverbs 4:23 (NLT)
EXAMPLE: Unbelief Will Throw You Off Course
So watch your step, friends. Make sure there's no evil unbelief lying around that will trip you up and throw you off course, diverting you from the living God. Hebrews 3:12 (MSG)
Your Words Reap! You Will Reap What You Sow!
Death and life are in the [a] power of the tongue, And those who love it will eat its fruit. Proverbs 18:21 (NASB) 
Words kill, words give life; they're either poison or fruit—you choose. Proverbs 18:21 (MSG) 
You are snared with the words of your lips, you are caught by the speech of your mouth. Proverbs 6:2 (AMP) 
For by your words you will be justified and acquitted, and by your words you will be condemned and sentenced. Matthew 12:37 (AMP) 
…Every one of these careless words is going to come back to haunt you. There will be a time of Reckoning. Words are powerful; take them seriously. Words can be your salvation. Words can also be your damnation." Matthew 12:37 (MSG) 
God Gave the Israelites WHAT THEY SAID! And they did not enter their Promised Land!
Then the Lord said to Moses and Aaron, 27 "How long must I put up with this wicked community and its complaints about me? Yes, I have heard the complaints the Israelites are making against me. 28 Now tell them this: 'As surely as I live, declares the Lord, I will do to you the very things I heard you say. Numbers 14: 26- 28 (NLT) 
God's Word Will Not Return Void – Speak God's Promises
So it is when I declare something. My word will go out and not return to Me empty, But it will do what I wanted; it will accomplish what I determined. Jeremiah 1:12 (VOICE) … I am watching over My word until it is accomplished. Isaiah 55:11(VOICE)
He sent His word and healed them, And delivered them from their [a]destructions. Psalm 107:20 (NAS) 
Speak God's Word … The Miracle is in Your Mouth!
Read More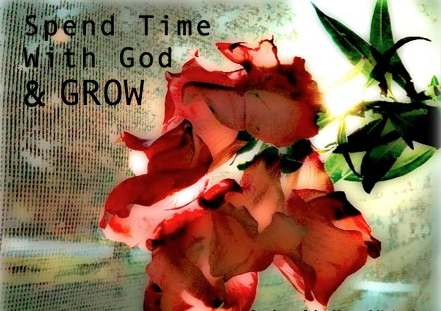 "There is a time for everything, and a season for every activity under heaven" (Eccl. 3:1,2 NIV)
I must admit, I need direction from God most every day of my life. The problem is that I haven't always run to God first. But I have gotten better over time.
Many years ago, God gave me a word. He said, "Take time to pray — or you will be praying for more time!"
I have found this to be so true!
Time is a valuable gift from God and we have a choice each day to choose what we are going to do with it.
Ephesians 5:15 tells us to "be careful how you walk, not as unwise men but as wise making the most of your time because the days are evil."
In this verse, the Greek meaning for wise means one who knows how to regulate his course in view of the movements of God.
God is moving in your life. Keep His movements in full view so that you can follow Him. Then your days will be well with you.
He already sees and knows everything that will come into our lives. He has a plan, and if we ask Him, He will guide us and lead us with His eye upon us.
"I [the Lord] will instruct you and teach you in the way you should go; I will counsel you with My eye upon you." (Psalm 32:8 AMP)
I have found that if I am not focussed in doing what God wants me to do, days can slip by and I can miss God opportunities. How about you? Are you taking time to seek God daily?
Every morning ask yourself, "What is the most important thing that God wants me to do today?"
If you ask Him, He will show you His plan for your day.
It's tempting to start your day at full speed doing all things that must be done, but strive to put God first, for then "all these other things will be added unto you" (Matthew 6:33). It is God's will that we order our days according to His plans for us and take time to spend with Him.
How does God want you to spend the time He has given you today? Ask Him and He will show you.
Once He does, keep focused on the work God has given you to do, not on the work you have chosen to do. As you prioritize your day God's way, He will bless the work of your hands.
I have found that when I take time with God and He reveals His will for my day, it is important to write these things down to help me stay on task.
Take time to pray, or you will be praying for more time.
xoxo Debra
Read More