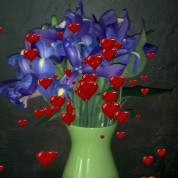 We must battle in prayer for our children when they can't fight for themselves.
The heritage of our children is heaven, and yet many of them are alcoholics, on drugs, walking in bitterness, hate, lust and pride etc.
There is a spiritual battle raging in the heavenlies for our children. It's time to stand on God's Word for their deliverance.
Your prayers will be more effective than any lecture you can give them.
Through prayer …
Satan's grip will be loosed
Their spiritual eyes will be opened
Strongholds will be demolished and
They will sense God moving in their lives.
Print the Scripture Prayers on this site and make a commitment to pray God's Promises every day for your children.
Here are some scriptures to encourage you.
 "Behold, I am the LORD, the God of all flesh; is anything too difficult for Me?" (Jeremiah 32:27 NASU)
 "… Nothing is too difficult for You." (Jeremiah 32:17 NASU) 
"There is hope in your future, says the LORD, that your children shall come back to their own border" (Jeremiah 31:17 N KJV)
"Again, I tell you that if two of you on earth agree about anything you ask for, it will be done for you by my Father in heaven" (Matt 18:19 NIV) 
"Believe on the Lord Jesus Christ, and you will be saved, you and your household." (Acts 16:31 NKJV) 
"He will even deliver the one [for whom you intercede] who is not innocent; yes, he will be delivered through the cleanness of your hands." (Job 22:30 AMP)
 "I will give you a new heart and put a new spirit in you; I will remove from you your heart of stone and give you a heart of flesh." (Ezekiel 36:26 NKJV)
"For I know whom I have believed and am persuaded that He is able to keep what I have committed to Him until that Day." (2 Timothy 1:12 NKJV)
For more information on cultivating the heart of your loved ones through prayer, read "Mud On My Knees Prayer Guide".