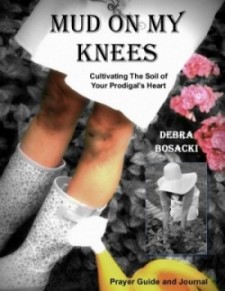 Read Mud On My Knees and come away with a fresh new perspective to help you understand what is keeping your prodigals from Christ. Gain new hope as you join God in what He is doing in The Garden of Their Heart.
Don't worry if you don't have a green thumb – Debra doesn't either, but you can become a gardener in God's garden whether or not you till earthly soil. You will learn how to pull down strongholds that are keeping your wayward loved ones from God and plant seeds of prayer.
Galatians 6:9 says that you will reap a harvest if you do not give up!
Mud On My Knees Prayer Guide – Sample Article
UNSEEN REALMS OF PRAYER
Adam was called to be a keeper of the garden. This included guarding it and watching over it from dangerous elements and serpents.
As you intercede for your prodigals, it is important to remain watchful. As you guard over their hearts, at times God will direct your prayers, warning you when danger is near. As you speak His Word, He will send forth His angelic troops, who perform and obey the voice of His Word, to battle against the evil forces of darkness on your behalf.
SOMEONE'S WATCHING
My mouth gaped open as the tall strange man approached my daughter, Katie. I was unprepared for what was to take place. Or was I? …