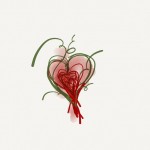 The farmer plants the Word. Some people are like the seed that falls on the hardened soil of the road. No sooner do they hear the Word than Satan snatches away what has been planted in them. Mark 4:14-15 (MSG)
If there is one element that is essential to all beautiful gardens, it is healthy, fertile soil. Good garden soil is rarely found waiting for you, but it can be developed with the right tools.
As with any garden, the garden of the heart also needs soft, pliable soil if it is to bear fruit that will delight the Lord. If the soil of your loved ones' hearts remains rock hard, the seed won't take root and the enemy will snatch it away. After years of being trampled on, like soil, the heart can become very compact and hardened. That is why Jesus warned us not to let our hearts become calloused to His voice. (Matt. 13:15, Heb. 3:15)
Hard hearts are conducive to growing weeds. Therefore, it is important that the soil of the heart remain soft. Not only is hard soil conducive to growing weeds, but have you ever noticed how difficult it is to kneel on earth that is cracked and baked hard as brick? I am pretty sure you will agree with me when I say, "My knees HURT!"  Right? Well, in a similar way, when kneeling in the garden of hardened hearts, it isn't always comfortable; your heart may ache, you will be heavily burdened and easily brought to tears – I know, I've been there and felt all the heartache. But there is hope. In an earthly garden in springtime, the frost brings rocks to the surface so that they can be dislodged. In a spiritual garden, as you pray, the Lord unearths these hardened areas in His time. God is calling you to join Him in this work!
Parched ground that soaks up the rain and then produces an abundance of carrots and   corn for its gardener gets God's "Well done!" … Hebrews 6:7 (MSG)
So let's get serious with our faces to the ground, no matter how long it takes and pray, pray, pray. God promises to take away our stony hearts and give us hearts that are pliable and soft! (Ez. 36:26)
When God taught me to pray scripture promises to soften the heart, I prayed them daily, not only over my family's hearts, but my own heart as well. I prayed persistently, even though I did not see much happen at first. Doing so was like opening the garden gate and inviting Him to do what He said He would do. Little by little I could see changes here and there, so I continued to plant these heart seeds, thanking Him for His promises. Several years passed and I was still holding on to the seeds of His promise, planting them into our hearts…
…For I will pour water on the thirsty ground and send streams coursing through the parched earth. I will pour my Spirit into your descendants and my blessing on your children. They shall sprout like grass on the prairie, like willows by flowing streams.                                                                              Isaiah 44:3-4 (MSG)
Sowing Seeds
His plans for your prodigals are plans to give them hope, a future and an expected end! (Jeremiah 29:11)
As you pray, He will cultivate the hearts of your loved ones as well. Like a farmer, you may not see what is happening deep beneath the soil, but you can be assured that God is answering your prayers and that He is at work. It takes time. Sometimes you will see results rather quickly and at other times you may not see any visible signs for quite a while. So if nothing is visible immediately, do not give up. God is at work deep beneath the soil of their hearts. In due time you will reap!
Prayer Journal:
Go to the scripture area in the back of this journal and pray the Heart Scriptures over the hearts of your prodigals. You are in a covenant relationship with God. You can believe His promises to change the hearts of your loved ones.
*Excerpt from Mud On My Knees: Cultivating the Soil of Your Prodigal's Heart (Prayer Guide/Journal)
*Full list of heart scriptures – included in Mud On My Knees Prayer Guide/Journal
Size – 11 X 8.5 Print
240 pages
Peek Inside the Book – Table of Contents